The Voorhes
Filter by Portfolio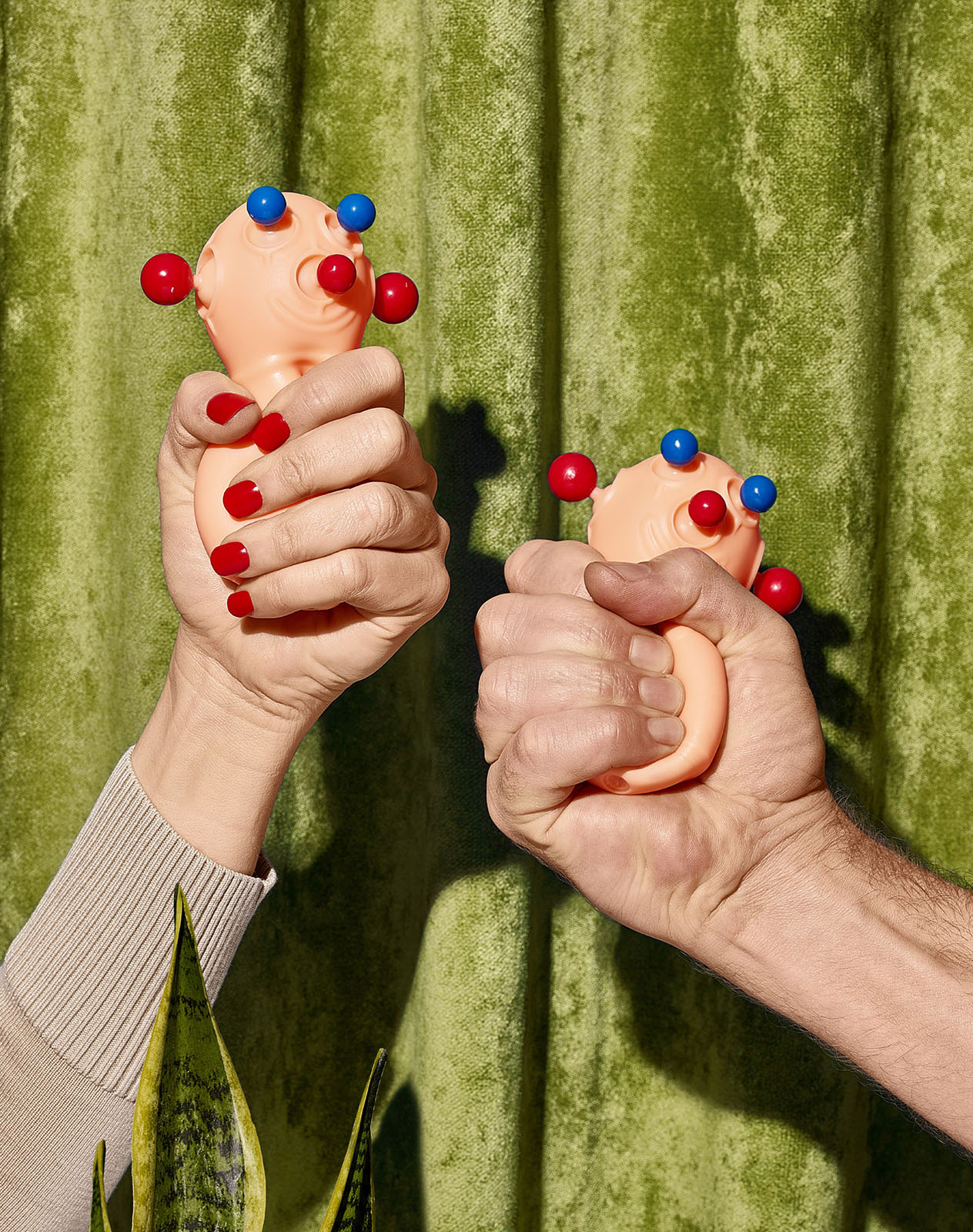 ABOUT ADAM & ROBIN
Adam met Robin. He complimented her shoes, she wasn't buying it. That was the beginning. They were married in a dog park by a fellow photographer who had been ordained online. The only camera at the wedding was a Polaroid SX 70. It has worked out. Adam's talent for pointing lights and pressing shutters pairs well with Robin's ability to build stuff and things out of stuff (& thing).
They have brainstormed, sketched, built stuff and photographed things for editorial and commercial clients such as Wired, Fortune, Details, O Magazine, GQ, Ceasars Casinos, and AT&T.
When not in their gospel church converted into a studio, they can usually be found on a patio with a margarita in one hand, a sketch pad in the other and two ill-behaved bulldogs at their feet.
AWARDS
2016
Communication Arts
Photo Annual PDN Objects of Desire
American Photography 32
2015
Graphis Award Gold
Graphis Award Silver x3
American Photography 31
Communication Arts
Photo Annual PDN Objects of Desire
2014
American Photography 30
Communication Arts Photo Annual
PRINT Design Annual
On American Photo's "Best Photobooks of the Year" list
2013
American Photography 29 (selected)
PDN Photo Annual Advertising/Editorial/Website
2012
American Photography 28
Communication Arts Advertising Annual
Communication Arts Typography Annual
Some ADDYS including "Best of Show"
2011
Graphis Photo Annual
Some ADDYs
Featured in American Photo
2010
Communication Arts Photo Annual
SPD included us in their list of 'Great White Covers'
Graphis Gold
ADDY x 2

2009
TIME's Top Ten magazine covers of the year, we got third with Texas Monthly's TJ Tucker, Creative Director Amazon's Magazine Cover of the Year Finalist with Texas Monthly & TJ Tucker, Creative Director ADDY

2008
SPD Feature Award
ADDY Gold
PARTIAL CLIENT LIST
Ace Hardware
Afar Magazine
American Airlines
American Legacy Foundation
Anomaly
AARP Magazine
AT&T
Bloomberg Businessweek
Bluetooth
Bon Appetit Magazine
BMW
British GQ
Caesars Casinos
Captain Morgan Rum
Cazadores Tequila
Central Market
Chase for Business
Conde Nast
Dairy Council of California
Details
Dr Oz -The Good Life
Droga 5
ESPN Magazine
Esquire
FCB Health
FCB Chicago
FedEx
Field & Stream
Force Majeure
Fortune Magazine
Four Seasons Hotels & Residences
Frito Lay
Fuddruckers
Genome
Golf Digest
Golf Pride
Gourmet Magazine (RIP)
GQ
GSD&M
Horseshoe Casinos
Hyatt Resorts
Integer Dallas
IEEE Spectrum
Jarritos
John Deere
Lennox
Leo Burnett
LL Bean
McGarrah Jessee
McMURRY/TMG
Men's Health
Men's Journal
Mercer
Michelob Ultra
M&Ms Mars
Money Magazine
National Geographic
Nike
O Magazine
This Old House Magazine
The One Club
Treasury Wine Estates
Pace Communications
Palomar Hotels
Pentagram Design
Phlur
Popular Mechanics
Popular Sciance
Rachel Ray Magazine
Reader's Digest
Redbook
Runners World
Scientific American
Shape Magazine
Southwest Airlines
Spirit Magazine
Sweet Leaf Tea
The Atlantic
Texas Monthly
Time Inc.
Treasury Wine Estates
United Airlines
US Department of Energy
USAA
Variety Magazine
VeeV Spirits
Victoria Beer
VSA Chicago
Walgreens
Washington Post
Wired
W Hotels & Residences
World Wildlife Fund Magazine